On this episode of Sage Advice, Venerable Mettaji returns to offer his advice on the topic of giving from the heart. Treasure Mountain Podcast links: https://www.treasuremountain.info/ https://www.facebook.com/TreasureMountainPodcast
Related Episodes
Have you learned the basics of meditation and wanted to take things deeper? Have you heard about silent meditation retreats and wondered what they are like? If so, you've arrived at the right place as in this episode we are going to discuss why we should go on meditation retreats, with a focus on th...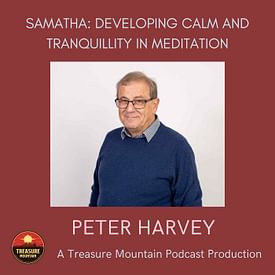 In this episode of Treasure Mountain we will explore the purpose and nature of samatha meditation, and it's relation to other forms of meditation - notably vipassana meditation - and to the Buddhist path as a whole. And our guest to help us have a deeper appreciation of samatha meditation is Profess...
In this episode I wanted to talk about the importance of community when it comes to both finding the Path of Practice, but also in terms of having the support to stick with it and to grow with it. I've been practicing Buddhism for thirty years and I have a lot of contacts in Western … Continue...